Main Content Area
Main Articles
Perfect location...

High Oaks Grange is a collection of luxury cottages and Scandinavian lodges set within 60 acres of beautiful Yorkshire countryside. Uniquely located in the North York Moors National Park, only a mile from the picturesque towns of Pickering and Thornton-le-Dale you will find your perfect holiday or short break at High Oaks Grange.
Local Attractions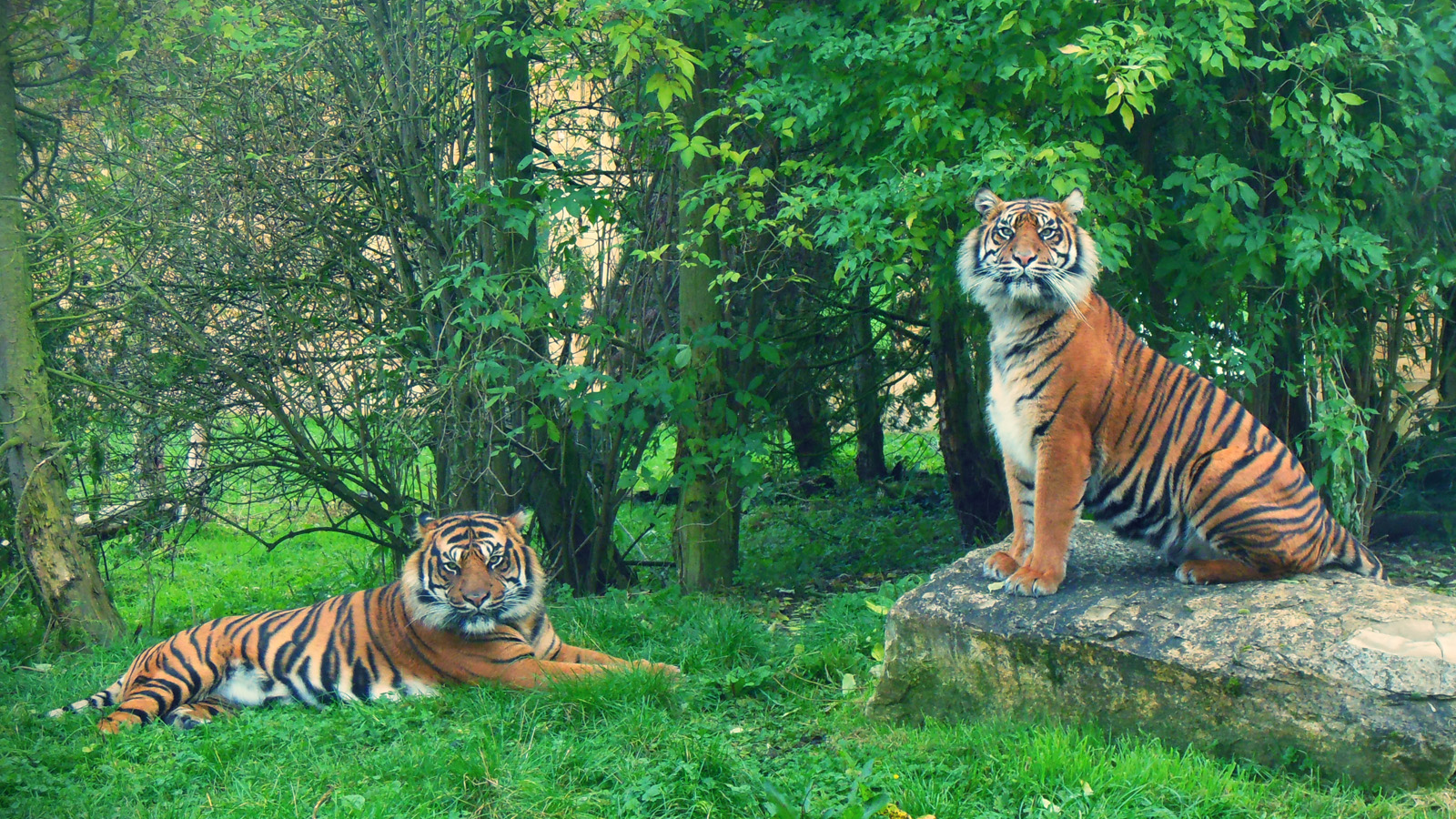 With so much to see and do in this beautiful area of North Yorkshire you will never be stuck for things to do. 
Enjoy the amazing countryside in the North York Moors National Park, discover the walking and cycling trails in Dalby Forest or wander around the many picturesque towns and villages... there is something for everyone here at High Oaks Grange.
Site Plan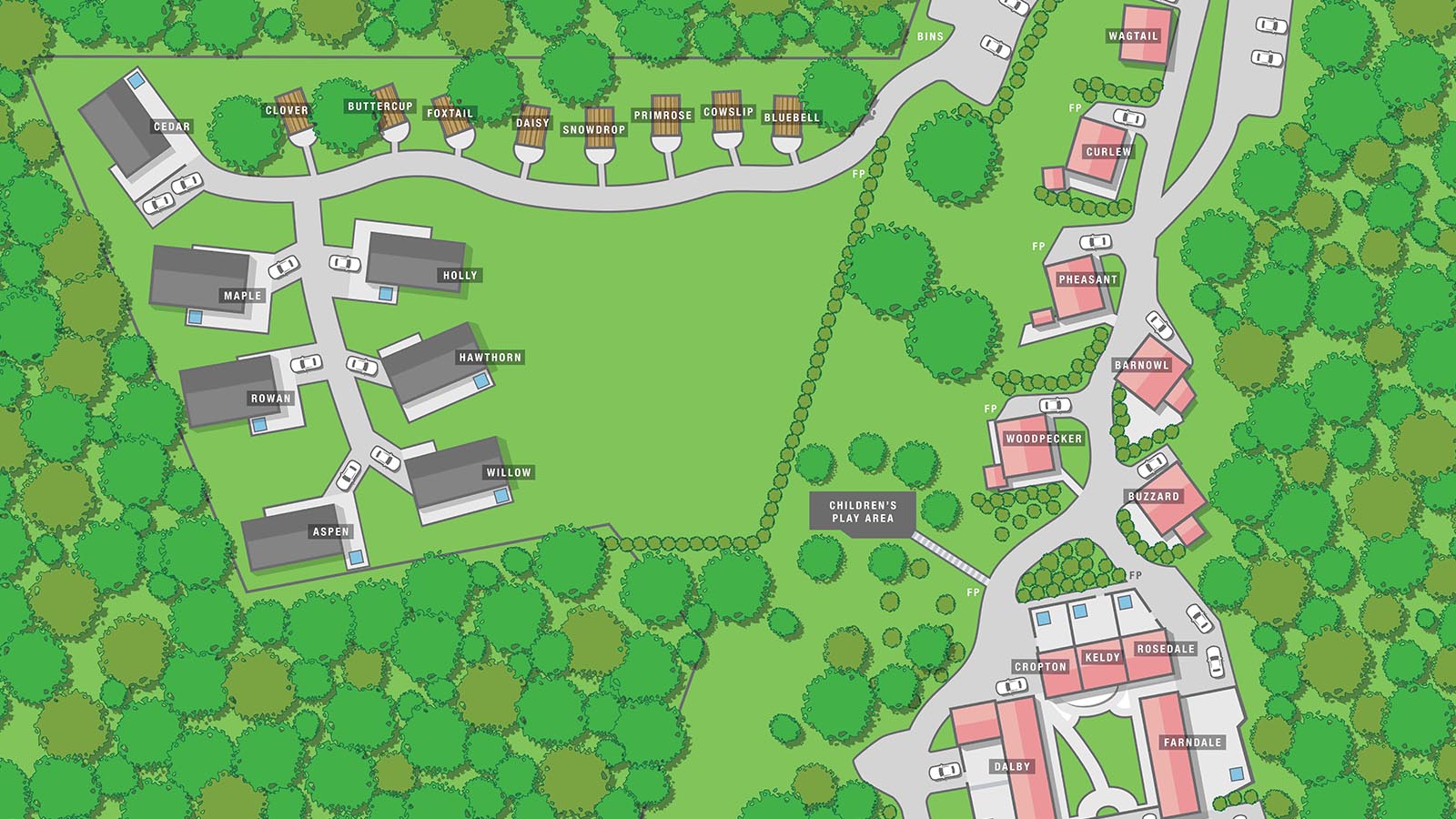 Explore the High Oaks Grange site plan. 

Find your ideal location on our Yorkshire estate.
How to Find High Oaks Grange
High Oaks Grange is located on Thornton Road (A170), between the market town of Pickering (1 mile) and the picturesque village of Thornton-le-Dale (1 mile).
---
How to Find Us by Car
From the North (Whitby) — Take the A169 road over the North York Moors to Pickering. Join the A170 signposted to Scarborough. After 1.3 miles you will come to our entrance on the left-hand side.
From the West (A1) — Leave the A1 at Junction 49. Follow the A168 to Thirsk. Follow the A170 towards Scarborough for 28 miles. High Oaks Grange is on the left-hand side, between Pickering and Thornton-le-Dale.
From the South (M1) — Leave the A1 (M) at Junction 44 on to A64. Follow the A64 towards Scarborough for 35 miles. Take the A169 exit towards Whitby/Pickering. Turn left on A169 towards Pickering. At the roundabout in Pickering turn right on the A170 for 1.3 miles. High Oaks Grange is on the left-hand side, between Pickering and Thornton-le-Dale.
From the East — Take the A170 road to Pickering. Approximately 1 mile outside of Thornton-le-Dale you will find High Oaks Grange on the right-hand side.
What Three Words — ///blinks.tailors.apart (find out more at what3words.com)
Please note - Your Sat Nav will take you to an industrial estate not to our entrance.
---
How to Find Us by Public Transport
By Train - The nearest train station is Malton (10 miles). Click here for train times. We recommend Kappa Kars taxi service if travelling from Malton, telephone 01653 699999 or Station Taxis telephone 01653 696969.
By Bus - Bus stops are available in Thornton-le-Dale (1.3 miles from entrance) and Pickering Industrial Estate (0.4 miles from entrance) with buses to Scarborough, Malton and Helmsley:
By Taxi - Pickering Taxi - 01751 617181; Harpers Taxi - 01751 476060; Ring-a-Taxi - 01751 473747 or Malton Taxi - 01653 696969.
Privacy Policy
At High Oaks Grange we take your privacy seriously and only use your personal information to provide the products and services you have requested from us.
We are the data controller in respect of any personal data we collect about you and we have appointed a data protection officer who is responsible for monitoring our data protection compliance.
We collect and process your personal information & data in the following ways:
- On our websites when you visit or make or manage a reservation; when you use our contact forms for an enquiry or when you sign up to our emails;
- In our Reception/Sales departments from your correspondence;
- If you contact us (by phone, email or otherwise), we may keep a record of our correspondence with you for record or training purposes, to improve the quality of our services and to prevent and detect fraud;
- When you enter our competitions on our social media pages;
- When you register at Reception on arrival;
- Whilst on the premises in the form of closed circuit television (CCTV);
- We also working closely with third parties (including for example, Online Travel Agents) and may receive information about you from them.
We may use your personal information & data in the following ways:
- To administer your booking;
- Send you emails or call you in relation to your stay;
- To contact you on departure to review your stay with us;
- To send you marketing & promotional emails should you opt in to this service;
- Other communications for example responding to requests or general customer service.
We use closed circuit television at our property that may capture or record images of guests and visitors in public areas for the protection of our staff, guests and visitors to our properties where permitted by law.
Sensitive personal data
We do not collect sensitive personal data (such as racial or ethnic origin, nationality, political opinions, religious beliefs, etc) unless it is volunteered by you. We may sometimes ask for information such as your age or any disability that you may have in order to tailor our services to your circumstances
As with all data, it is entirely up to you to decide whether or not you are happy to provide this information. Sensitive personal data will only be used in order for us to fulfil our contract with you to provide the services that you have requested.
We may use data provided by you to serve you better and meet your particular needs (for example, the provision of disability access). You do not need to provide us with personal information simply to browse our website.
Credit/Debit Cards
We use a secure website to obtain your credit/debit card information in order to process any bookings made on our site. Credit/debit card information may also be requested over the phone when a booking is being made. We will never ask you to send us this information electronically.
All such information is stored on a secure system and will only be accessed when necessary to take payments as outlined in our Terms & Conditions. This data will kept for as long as is necessary to fulfil your contract with us (unless a longer retention period is required or permitted by applicable law) before being disposed securely.
Opt out
Marketing & Promotional e-mails provide a link at the end of the e-mail to unsubscribe from that service.
Please note that it is not possible to 'opt-out' of receiving communication from us which relates to your bookings or reservations.
How is your personal data shared within our family business?
We may receive personal data about you from other companies of our family business, Crows Nest Camp Ltd, Crows Nest Farms Ltd and Jasmine Park Ltd or share your personal data with them for the following purposes:
A. To provide services (including to make, administer and manage reservations or handle payments);
B. To provide customer support services;
C. To detect, prevent and investigate fraudulent, other illegal activities and data breaches;
D. For analytical and product improvement purposes;
E. To provide personalised offers or send you marketing with your consent or as otherwise permitted by applicable law;
F. To ensure compliance with applicable laws.
Non-disclosure to third parties
We do not share your data with any other company for marketing purposes other than those detailed above.
We may share your data with agencies such as law enforcement or governmental organisations where we are required to make such disclosures by any applicable law.
We may share your data with banks and payment providers, to authorise and complete payments. 
We may pass your information to our third-party service providers, agents, sub-contractors and other associated organisations for the purposes of completing tasks and providing services to you on our or your behalf (for example to process payments and send you email). However, when we use third party service providers, we disclose only the personal information that is necessary to deliver the service and we have a contract in place that requires them to keep your information secure and not to use it for their own direct marketing purposes.
Please be reassured that we will not release your information to third parties for them to use for their own direct marketing purposes, unless you have requested us to do so, or we are required to do so by law, for example, by a court order or for the purposes of prevention of fraud or other crime.
We work with carefully selected Online Travel Agents (OTAs). When you enquire about or book with these third parties, the relevant third-party product provider will use your details to provide you with information and carry out their obligations arising from any contracts you have entered into with them. They will be acting as a data controller of your information and therefore we advise you to read their Privacy Policy. These third-party product providers will share required information about you with us (e.g. accommodation type and dates of stay) which we will use in accordance with this Privacy Policy. If you provide information on and use third-party sites, the privacy policy and terms of service on those sites is applicable. We encourage you to read the privacy policies of websites that you visit before submitting personal information.
We are a member of Premier Cottages, a professional collective of independent luxury cottage owners. Premier Cottages promotes properties on our behalf as well as other luxury cottages. As members of Premier Cottages we would like to give them your information so that they can contact you about other quality properties that you might like. You may unsubscribe from this service at any time.
Our website includes links into our social media pages eg. Twitter and Facebook. These features may collect your IP address, which page you are visiting on our site, and may set a cookie to enable the feature to function properly. Social media features and widgets are hosted by a third party. Your interactions with these features are governed by the privacy policy of the company providing it.
Retaining personal information
We retain personal information about you for the period necessary to fulfil the purposes outlined in this Policy, unless a longer retention period is required or permitted by applicable law. When your information is no longer required, we will ensure it is disposed of in a secure manner.
We review our retention periods for personal information on a regular basis. We will hold your personal information on our systems for as long as is necessary for the relevant activity, or as long as is set out in any relevant contract you hold with us.
Recruitment
Should you apply for a position within our company, your details will be held on file until such a time as the position is filled. If you are unsuccessful in your application, your details will be disposed of securely and in a timely manner unless you request otherwise.
How we use cookies
Our website uses "cookies" which are harmless small text files that are placed on your machine to help the website provide a better user experience. In general, cookies are used to retain user preferences, store information for things like shopping carts, and provide anonymised tracking data to third party applications like Google Analytics. As a rule, cookies will make your browsing experience better. However, you may prefer to disable cookies on this site and on others. The most effective way to do this is to disable cookies in your browser. We suggest consulting the Help section of your browser. Please note, if cookies are disabled, the online browsing experience may be limited.
We don't use cookies to track individuals or store sensitive information such as your name, address or credit card details.
IP addresses
We may collect non-personal information about your computer, including, where available, your IP address, operating system and browser type, for system administration. This is statistical data about our users' browsing actions and patterns and does not identify any individual. Your IP address is a number that your Internet Service Provider automatically assigns to the computer that you are using to access the Site. This number is identified and logged automatically in our server log files whenever users visit the Site, along with the time of each visit and the page(s) that were visited. Collecting IP addresses is standard practice on the Internet and is done automatically by many websites. We use IP addresses for purposes such as calculating Site usage levels, helping diagnose server problems, validation of a legitimate user session via Google® captcha and administering the Site. Please note that we treat IP addresses, server log files, and related information as Non-Personal Information, except when we are required to do otherwise under applicable law.
NHS Test & Trace
Recording customer details: how we use your information
To support NHS Test and Trace (which is part of the Department for Health and Social Care) in England, we have been mandated by law to collect and keep a limited record of staff, customers and visitors who come onto our premises for the purpose of contact tracing.
By maintaining records of staff, customers and visitors, and sharing these with NHS Test and Trace where requested, we can help to identify people who may have been exposed to the coronavirus.
As a customer/visitor of High Oaks Grange you will be asked to provide some basic information and contact details. The following information will be collected:
the names of all customers or visitors
a contact phone number for each customer or visitor
date of visit and arrival time and departure time
The venue/establishment as the data controllers for the collection of your personal data, will be responsible for compliance with data protection legislation for the period of time it holds the information. When that information is requested by the NHS Test and Trace service, the service would at this point be responsible for compliance with data protection legislation for that period of time.
The NHS Test and Trace service as part of safeguarding your personal data, has in place technical, organisational and administrative security measures to protect your personal information that it receives from the venue/establishment, that it holds from loss, misuse, and unauthorised access, disclosure, alteration and destruction.
In addition, if you only interact with one member of staff during your visit, the name of the assigned staff member will be recorded alongside your information.
NHS Test and Trace have asked us to retain this information for 21 days from the date of your visit, to enable contact tracing to be carried out by NHS Test and Trace during that period. We will only share information with NHS Test and Trace if it is specifically requested by them.
For example, if another customer at the venue reported symptoms and subsequently tested positive, NHS Test and Trace can request the log of customer details for a particular time period (for example, this may be all customers who visited on a particular day or time-band, or over a 2-day period).
We may require you to pre-book appointments for visits or to complete a form on arrival.
Under government guidance, the information we collect may include information which we would not ordinarily collect from you and which we therefore collect only for the purpose of contact tracing. Information of this type will not be used for other purposes, and NHS Test and Trace will not disclose this information to any third party unless required to do so by law (for example, as a result of receiving a court order). In addition, where the information is only collected for the purpose of contact tracing, it will be destroyed by us 21 days after the date of your visit.
However, the government guidance may also cover information that we would usually collect and hold onto as part of our ordinary dealings with you (perhaps, for example, your name, date of birth and phone number). Where this is the case, this information only will continue to be held after 21 days and we will use it as we usually would, unless and until you tell us not to.
Your information will always be stored and used in compliance with the relevant data protection legislation.
The use of your information is covered by the General Data Protection Regulations Article 6 (1) (c) – a legal obligation to which we as a venue/establishment are subject to. The legal obligation to which we're subject, means that we're mandated by law, by a set of new regulations from the government, to co-operate with the NHS Test and Trace service, in order to help maintain a safe operating environment and to help fight any local outbreak of corona virus.
By law, you have a number of rights as a data subject, such as the right to be informed, the right to access information held about you and the right to rectification of any inaccurate data that we hold about you.
You have the right to request that we erase personal data about you that we hold (although this is not an absolute right).
You have the right to request that we restrict processing of personal data about you that we hold in certain circumstances.
You have the right to object to processing of personal data about you on grounds relating to your particular situation (also again this right is not absolute).
If you are unhappy or wish to complain about how your information is used, you should contact a member of staff in the first instance to resolve your issue.
If you are still not satisfied, you can complain to the Information Commissioner's Office. Their website address is www.ico.org.uk.
We keep our privacy notice under regular review, and we will make new versions available on our privacy notice page on www.highoaksgrange.co.uk
Getting in contact
If you would like to review, access, amend or update your information please contact:-
Data Controller 
High Oaks Grange
Thornton Road
Pickering
YO18 7JX
Email: This email address is being protected from spambots. You need JavaScript enabled to view it.
This policy was updated on 7th April 2021
Terms & Conditions
Terms and Conditions – High Oaks Grange
1. Contract
By making a booking you have entered into contract between "you" (the guest) and "us" (High Oaks Grange). This contract becomes legally binding once "we" (High Oaks Grange) have sent out a confirmation form and is subject to all our booking conditions. Ensure that you check all information on your booking confirmation carefully and notify us of any discrepancy or mistake. You must be 18 years or over when the "property" (relevant property from the High Oaks Grange collection for which you make a booking) is booked. Please advise other adults within your party of these booking conditions.
2. Payment
A deposit of 25% (minimum £100.00 value) of the rental fee is payable immediately upon making the booking where the booking is made more than 8 weeks before the start of the rental. The booking will not be confirmed until the deposit is received. The balance shall be payable in full 8 weeks before the commencement of the rental. For bookings made less than 8 weeks before the commencement of the rental the total fee is payable.
3. Cancellation/Refund Policy
3.1 Bookings made from 12.00am 01/09/2023
OR Bookings made between 6.00pm 08/01/2021 to 11.59pm 02/05/2023
OR Bookings covered by Cancel Cover in 3.2 that do not adhere to refundable terms.
Any cancellation made by the Guest for whatever reason shall be in writing and addressed to High Oaks Grange at the address on the Booking Form or by email from the email address on record. Guests must include the pin number set during the booking process in their correspondence. On receipt of notice of cancellation, attempts will be made to re-let the property by High Oaks Grange for the period of the booking. If re-letting the property is successful for the whole period all the monies paid less an administrative charge of £50.00 (inc VAT) per booking will be refunded. If re-letting the property for part of the period booked is successful, an amount equal to the money paid by the Guest less the rental for the period which is not re-let and an administrative charge of £50.00 (inc VAT) will be refunded.
If it has not been possible to re-let the property at all then all monies paid by the Guest shall be forfeit to High Oaks Grange.
It is strongly recommended that private Travel Insurance is purchased at the time of booking.
3.2 Bookings made between 12.00am 03/05/2023 and 11.59pm 31/08/2023
Cancel Cover is active for your booking. Bookings cancelled between 60 days before arrival and 11.59pm on the day before arrival will receive a 100% Refund and a Cancel Cover claim opened. Any cancellation made by the Guest must be in writing and sent by email to This email address is being protected from spambots. You need JavaScript enabled to view it. from the email address on our booking records. Guests must include the reason for cancellation in the cancellation email. Refunds will be processed within 2 weeks of cancellation on to the card(s) used for the original payments. The date and time stamp attached to the email received will be provided as evidence of cancellation and must be within the Cancel Cover time frame.
Cancel Cover is not valid on cancellations due to you (or members of your party) being unable to travel because you (or a member of your party) fall ill with Covid or are required to quarantine or self-isolate. Cancel Cover is not valid on any other epidemic/ pandemic, war and terrorism. For this reason, we strongly recommend that you also take out your own travel insurance for UK holidays which covers booking cancellations.
Bookings cancelled on the arrival day are non-refundable.
Example. If you are arriving on a Monday, you can cancel up to 11.59pm on the Sunday. Cancellations from 12.00am on Monday (arrival day) will not be covered by Cancel Cover and will be non-refundable.
3.3 Cancellations due to Covid-19 (or variant of). Bookings that can not legally go ahead due to Government enforced travel restrictions will receive a credit voucher for the fees paid to enable the Guest to rearrange their booking. Credit Vouchers will be valid on any properties and any dates (subject to availability) for a minimum of 12 months from the original arrival date. It is strongly recommended that Cancellation Insurance covering illnesses including Covid-19 is purchased at the time of booking.
4. Changes of Date
High Oaks Grange may consider a request from a Guest to change the dates of the booking after confirmation has been issued. Agreement may be given subject to all of the following conditions being met: if the property is available for the period requested, the request is received more than 8 weeks prior to the commencement of the rental; the Guest pays an administration fee of £30.00 (inc VAT) and any additional sums due.
5. VAT
VAT is included in the rental fee where applicable.
6. Period of Hire
Rentals commence at 4pm on the day of arrival and end at 10am on the day of departure.
7. Use of Property
The booking shall be deemed to be for the purpose of the people whose names appear on the booking form. The number of persons using the Holiday accommodation (except for babies in cots where applicable) shall not exceed the maximum number stated in the property details. Cots are deemed suitable for babies up to 24 months. The property shall be used for personal and domestic purposes only. The property shall not be used for any commercial purposes without the consent of High Oaks Grange. High Oaks Grange reserves the right to refuse entry to the entire party if this condition is not observed, and generally in the case of any breach of these Booking Conditions by the Guest where High Oaks Grange consider such exclusion is reasonable.
8. Complaints
Should there be any cause for complaint during the occupation of the property we must be notified promptly and in case of serious problems the complaint must be confirmed in writing within 7 days of departure.
9. Care of the Property
9.1 The Guest shall take all reasonable and proper care of the property and its furniture, pictures, fittings and effects in or on the property and leave them in the same state of repair and condition and in the same clean and tidy condition at the end of the rental period as at the beginning. The Guest shall abide by all instructions with regard to the use of the property and its fixtures and fittings as notified by High Oaks Grange.
9.2 The Guest shall take care not to leave personal possessions in property on departure. High Oaks Grange will make every effort to return high value items provided that the Guest notifies High Oaks Grange within 24 hours of departure. High Oaks Grange accepts no responsibility for personal possessions left in the property following departure.
10. Smoking
All our properties at High Oaks Grange are no-smoking and no-vaping properties, should the Guest smoke inside the properties we reserve the right to ask you to leave even if your let is not complete.
11. Breakages or Damages
The Guest is legally bound to reimburse High Oaks Grange for replacement, repair or extra cleaning costs incurred as a direct result of the Guest's use of the Property on demand.
12. Keys
You will be issued with a set of keys to the holiday property at the commencement date. You must return the key as directed by staff of High Oaks Grange. If you lose a key, High Oaks Grange will replace it – you will be expected to pay reasonable costs to have a replacement cut.
13. Cautionary Damage Security Deposit
It is required that the details of a debit or credit card will need to be held securely during your stay. This is in respect of us needing to charge for any substantial damage, loss of contents to the property or any additional costs incurred during your stay. This does not include normal wear and tear and minor incidentals.
We will ask you in the pre-arrival email to contact us by telephone during the week before you arrive so this process can be completed prior to you checking in. No money will be debited or credited from the card at this time and we would always contact you initially should we need to charge any monies, for any reason. The card details used can belong to any of the party staying at the property.
14. Access to Holiday Property
A representative of High Oaks Grange shall be allowed access at any reasonable time during the holiday occupancy should an emergency or problem arise that need attention by a member of staff. A representative of High Oaks Grange shall consult with the guest prior to entering the property.
15. Pets
Dogs are welcome in most, but not all our properties. Woodpecker Lodge is kept dog free. No pets other than dogs are permitted. Dogs are to be properly controlled and supervised at all times. They must not be left unattended at the property. Dogs are not permitted in any of the bedrooms or on any of the furniture and we therefore advise guests to bring a pet basket and blankets.
Guests must clean up after all dogs inside and outside of the property, or they will be charged for extra cleaning costs. Guests with allergies should be aware that we cannot guarantee that there have been no dogs previously kept at the property, nor can we accept any liability for any suffering which may occur as a result of such pets having been present. An extra charge of £8.00 per dog per night is applicable.
16. Noise
For the enjoyment of all guests staying at High Oaks Grange, noise should be kept to a minimum between 10.30pm and 8am.
17. Liability
17.1 The following provisions set out the entire liability of High Oaks Grange (including any liability for the acts or omissions of its employees, agents and subcontractors) to the Guest in respect of: (1) any breach of these Booking Conditions; and (2) any representation, statement or tortuous act or omission including negligence arising under or in connection with the Contract.
17.2 All warranties, conditions and other terms implied by statute or common law are, to the fullest extent permitted by law, excluded from the Contract. Nothing in the Contract excludes or limits the liability of High Oaks Grange for death or personal injury caused by negligence or fraudulent misrepresentation.
17.3 Subject to clauses 17.2 and 17.3: (1) High Oaks Grange total liability in contract, tort (including negligence or breach of statutory duty), misrepresentation or otherwise, arising in connection with the performance of the Contract shall be limited to a sum equal to three times the rental fee; and (2) High Oaks Grange shall not be liable to the Guest for any type of indirect or consequential loss or damage, costs, expenses or other claims for consequential compensation whatsoever (however so caused) which arise out of or in connection with the Contract. Save for any rights under these Conditions and the Contract which may be exercised by High Oaks Grange, no term of the Contract is enforceable under the Contracts (Rights of Third Parties) Act 1999 by a person who is not a party to the Contract. Without prejudice to the foregoing, if the property which the Guest has booked becomes unavailable or un-useable for some reason prior to the date of booking, then High Oaks Grange obligation will be to (1) use their best endeavour to find a suitable alternative property, or failing which (2) to reimburse the Guest for any monies paid. Notwithstanding any other provision of this Contract, neither High Oaks Grange nor the Owner shall jointly or individually be deemed to be in breach of this Contract or otherwise be liable to the Guest, for any delay in performance or the non-performance of any of their respective obligations under this Contract, to the extent that the delay or non- performance is due to any act or circumstance beyond their reasonable control, and the time for performance of that obligation shall be extended accordingly.
17.4 Force Majeure
Force Majeure, of the nature of which this clause is intended to cover, includes without limitation fire, flood, exceptional weather conditions, epidemics, pandemics, war, civil war, invasion of foreign enemies, war-like activities (whether or not there is an actual declaration of war), rebellion, insurrection, civil commotion arising to the level of uprising, military or usurped power; acts of terrorism committed for political, religious, ideological, or similar purposes; actions intended to prevent any of the above and damage of the Property by any cause other than negligence of the Owner or High Oaks Grange, and all similar situations. No compensation, costs, expenses or other sums of any description (including without limitation the cost of securing an alternative property/accommodation) will be payable in such circumstances by either the Owner or High Oaks Grange to the Guest.
18. Warranties
High Oaks Grange does not warrant and is not responsible for the accuracy of any verbal information given or statements made by its employees, agents or the owners of the properties.
19. Communicating with the Guest
For the purposes of the Data Protection Act 1998, High Oaks Grange is the sole data controller of all personal data provided to High Oaks Grange by Guests and prospective Guests. In order to process a booking High Oaks Grange needs to collect certain personal data details from the Guest, for example names and addresses of party members, credit/debit card or other payment details, special requirements, such as those relating to a disability or medical condition which may affect any party member's holiday arrangements. If High Oaks Grange needs any other personal details the Guest will be told before they are obtained. High Oaks Grange needs to pass these details on to other parties and organisations who need to know them so that the holiday rental can be provided, for example, the credit/debit card Company or bank or for verification of details relating to your holiday rental. High Oaks Grange also needs to process and store Guests' personal details for its own administration, market analyses and operational reviews. High Oaks Grange would also like to store and use personal details for future marketing purposes (for example, sending brochures, details of promotions, or offers which High Oaks Grange feels may be of interest). All details given to High Oaks Grange at any time will be kept, but only names, contact details and the booking preferences will be used for marketing purposes unless the Guest is informed otherwise when the information is provided. High Oaks Grange will respect the privacy of personal data and will comply with all relevant and current data protection legislation. High Oaks Grange will not make its mailing list or Guests' personal data available for marketing purposes unless required to do so by a Court of Law. Competent jurisdiction will not disclose personal data to anyone.
20. Exclusive Offers
High Oaks Grange may from time to time offer discounted rates for last minute bookings, these offers apply to new bookings only for the dates specified on the offer and cannot be used in conjunction with any other discount. Any disputes are at the discretion of High Oaks Grange.