Malton, Yorkshire's Food Capital
Malton, described as Yorkshire's Food Capital, is famous for its year round food festivals celebrating local produce a magnet for the UK's leading chefs - and also for its trailblazing town centre of independent food stores and award winning artisans, where you can find anything your taste buds desire.
From exquisite patisserie to micro-brewing, from the country's top gelaterie to Yorkshire's best bread, from fishmongers to greengrocers, you could fill your entire larder with Malton's artisanal harvest, bursting with fresh local ingredients, and showcasing exceptional craftsmanship.
You can explore Malton's flavours with an expert on the UK's top guided gastronomic tour, or simply wander, making sure to visit the artisans' food court at Talbot Yard. There are monthly and weekly markets, Summer Street Food Sundays, and also major festivals dedicated to food & drink - including Yorkshire's 'Foodie Glastonbury' each May, and even a 'Wineathlon' race to celebrate August's harvest. To add to the fun, there's also a friendly Cookery School and Gin School.
Since Roman times, Malton has been the historic centre of Ryedale. North of the Roman fort site, is the original town of Old Malton, with ancient stone houses and quaint dwellings in the centre of which stands the most beautiful Gilbertine Priory in use in England - St Mary's. The building of a Norman Castle near to the river crossing encouraged the growth of a second town, the modern day Malton. Over the river and joining Malton is Norton on Derwent.
Heavenly Helmsley
Helmsley has been home to the finest lords and ladies in the land for over 800 years and not surprisingly has developed a taste for the finer things in life. Helmsley has developed in to one of Britain's best market towns, a gateway to the north's finest restaurants, tea-rooms and food shops. In its picturesque market square, you'll discover a mouth-watering range of independent butchers, bakers, fishmongers, confectioners, greengrocers - all championing local produce alongside the award-winning Helmsley Brewery Company.
Hunters of Helmsley, recently voted one of the UK's best small shops, is an Aladdin's Cave of local gourmet delights, while Helmsley's Black Swan is one of the country's most admired Tea Places - an award-winning 'Ritz' of the North, founded by Marco Pierre White, serving an exquisite afternoon tea. Meanwhile, four of the North's top restaurants are on the doorstep, including Michelin-starred restaurants The Black Swan in Oldstead, and The Star Inn at Harome; and multi-award winning The Feversham
Arms in Helmsley and The Hare in Scawton.
Helmsley's also a honey-pot for art, antique and design lovers, with boutiques, galleries and workshops to rival major cities, showcasing leading artists, craftspeople, and makers of fashion and furnishings, alongside collections of curiosities. From bizarre bookends to handcrafted walking sticks (or magic wands), Italian lingerie to bespoke sofas, garden furniture to designer jewellery, Helmsley's a wonderland for the imagination!
Norton-on-Derwent
Norton is a town that loves the great outdoors, surrounded by miles of countryside where it's easy to escape the everyday of our modern busy lives. 
Norton's been at the heart of the horse-racing world for over 400 years, and today the town is home to some of the UK's top training stables. Each September during the Festival of Racing, local stables open the barn-doors to visitors with parades and fun shows; but all year round you can enjoy the thrilling spectacle of horses training on
the local gallops, book a personal tour of the top yards and explore historic bridleways on horseback or bike.
For golf-lovers, Norton has two top-class clubs on the doorstep: Malton & Norton is one of the region's finest clubs, home to some of the North of England best facilities. Just a few miles further, Ganton Golf Club is one of the UK's most prestigious golf courses, host to the Ryder & Walker Cups.
Norton is also the gateway to the Yorkshire Wolds, a tranquil and unspoilt chalk landscape that feels completely cut off from the modern world. There are miles of undisturbed walking, horse riding and cycling trails, passing by the mysterious remains of lost ancient worlds, including an entire medieval village at Wharram Percy. It's also home to international wildlife artist. Robert Fuller who celebrates - and helps support - the region's magnificent local wildlife.
Kirkbymoorside
Kirkbymoorside might be Ryedale's smallest market town, but its weekly Wednesday market is the liveliest. It's been held in the cobbled market square for over 750 years, and is one of the last surviving privately-run market in the country. Most importantly, it's still the life and soul of the local area, where people gather to share the news browse the stores and galleries and eat and drink great food as they have for centuries.
Kirkbymoorside is a small town on the A169 between Pickering and Helmsley. Many visitors will simply drive through it but we encourage you to turn into the town and have a look at the weekly market and its other independent shops.
Major Festivals
May: Malton Food Lovers Festival - Beertown in Malton
August Marathon du Malton (wineathlon)
September: Malton Harvest Food Festival
December. Helmsley's Christmas Festival & Malton Christmas Market
Top Regular Markets
Malton Monthly Food Market, 2nd Saturday of every month, March to December.
Ryedale Farmers' Market in Malton, last Saturday of every month (except December).
Helmsley's weekly market, nearly 900 years old, is on a Friday.
Pickering's Farmers Market is on the first Thursday in each month: the town's weekly market is on a Monday.
Hovingham's award-winning market is on the first Saturday of every month (except January).
Malton Livestock Market is the largest in the North of England, with weekly auctions and several specialist annual sales throughout the year.
Look out for local beer, gin and cider festivals in the region's top pubs and restaurants, including Pickering's Cropton Inn and Sun Inn, specialising in real ales.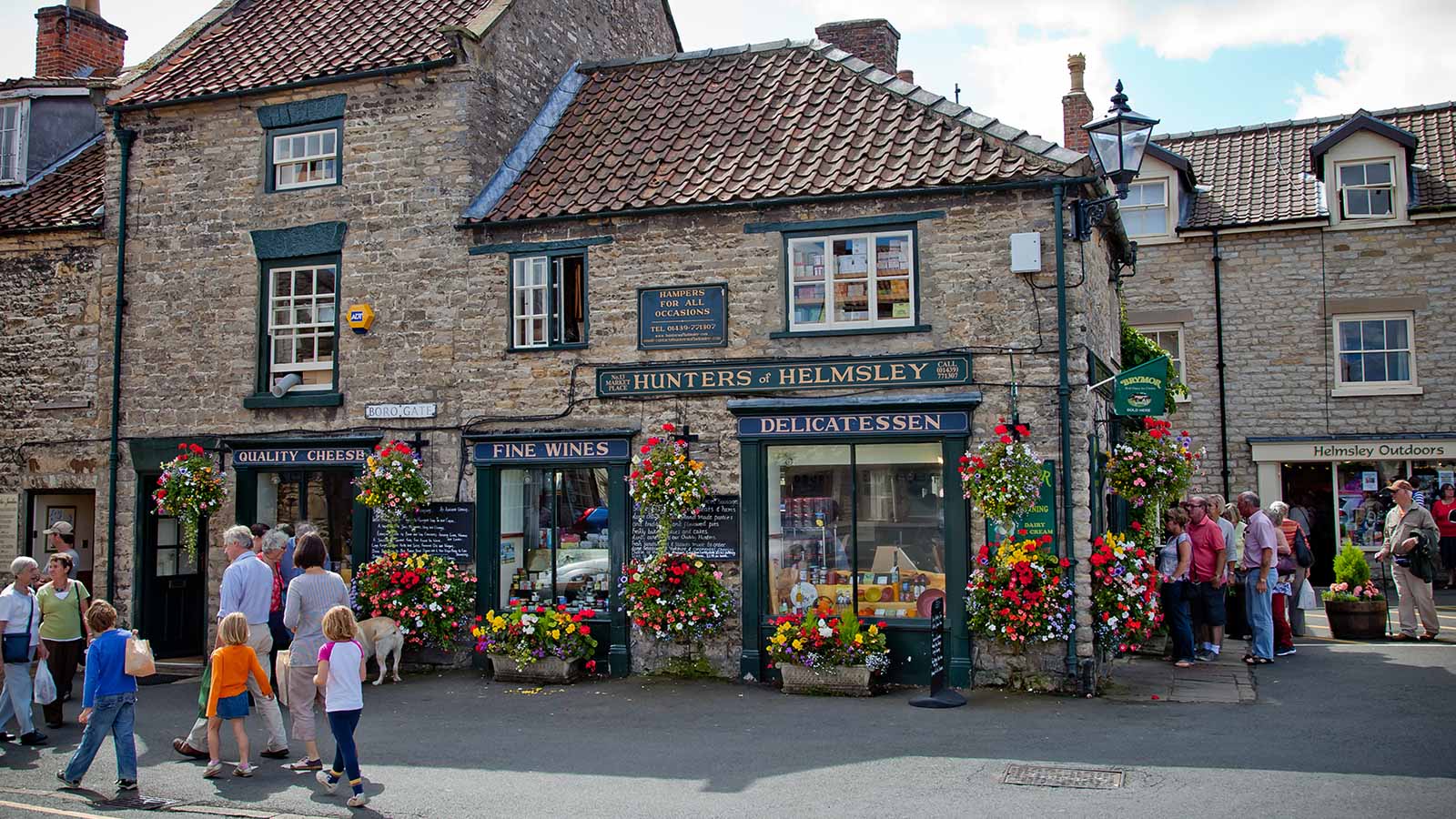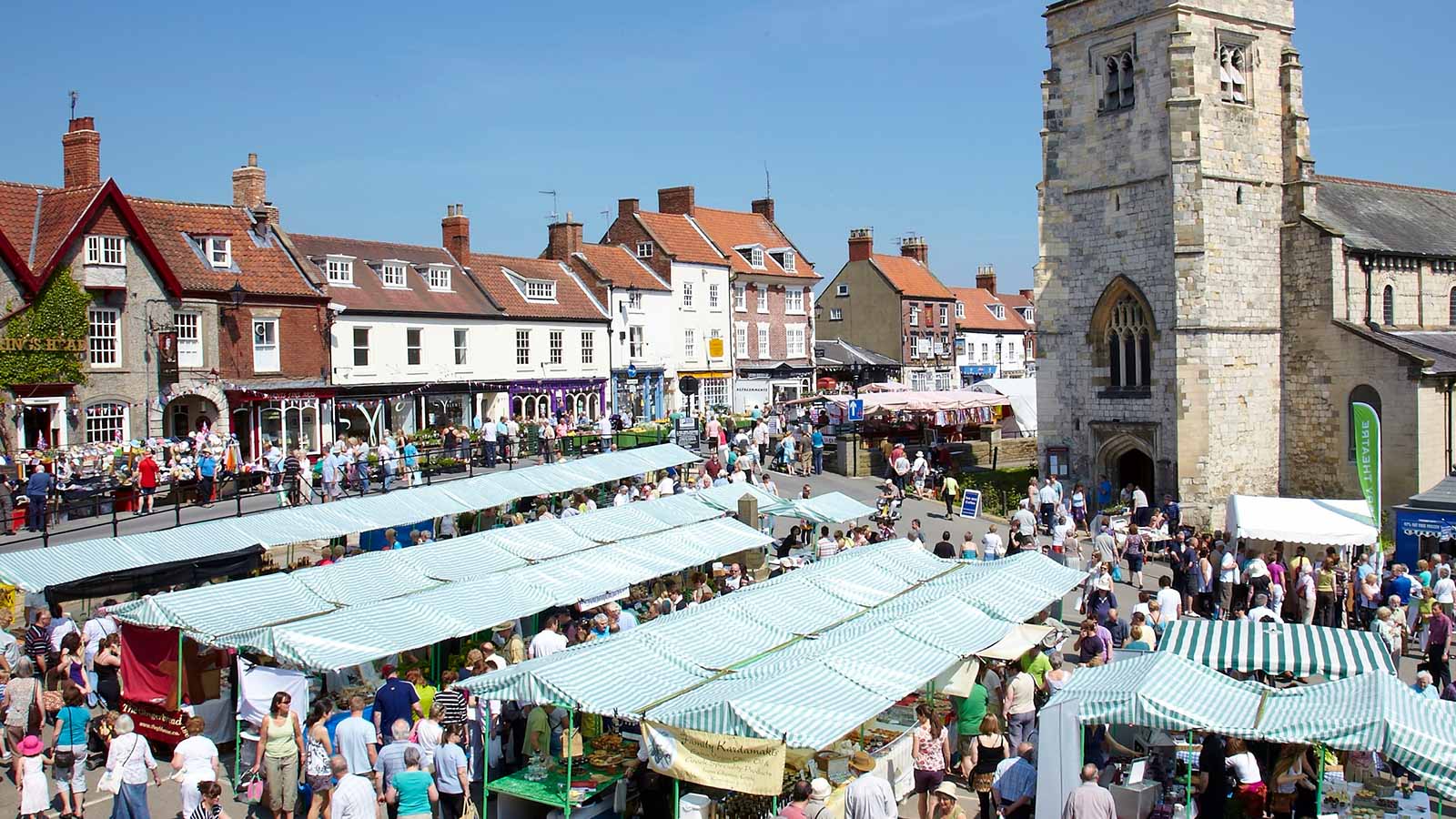 You can discover more local attractions at: www.ryedale.mumbler.co.uk