High Oaks Grange offers dog-friendly accommodation, and many of our guests bring their dogs with them when they stay with us. But where can you go for a good walk with your dog? Here are our top 5 recommended walks that both humans and 4-legged pals will love.
Our beautiful location in the North York Moors means you can take walks straight from the door, either towards Pickering or Thornton-le-Dale and Ellerburn. However if you are looking to stretch those paws a little further then here are our 5 favourite dog walks in the local area.   
1. Hole of Horcum
 A beautiful walk across the moorlands of the North York Moors. This 5-mile circular walk involves a bit of a climb at one point and across some fabulous moorland. There's an opportunity for a splash for any water loving dogs too. We have done a previous full blog on Hole of Horcum as it is a favourite and definitely a good one for a dog walk.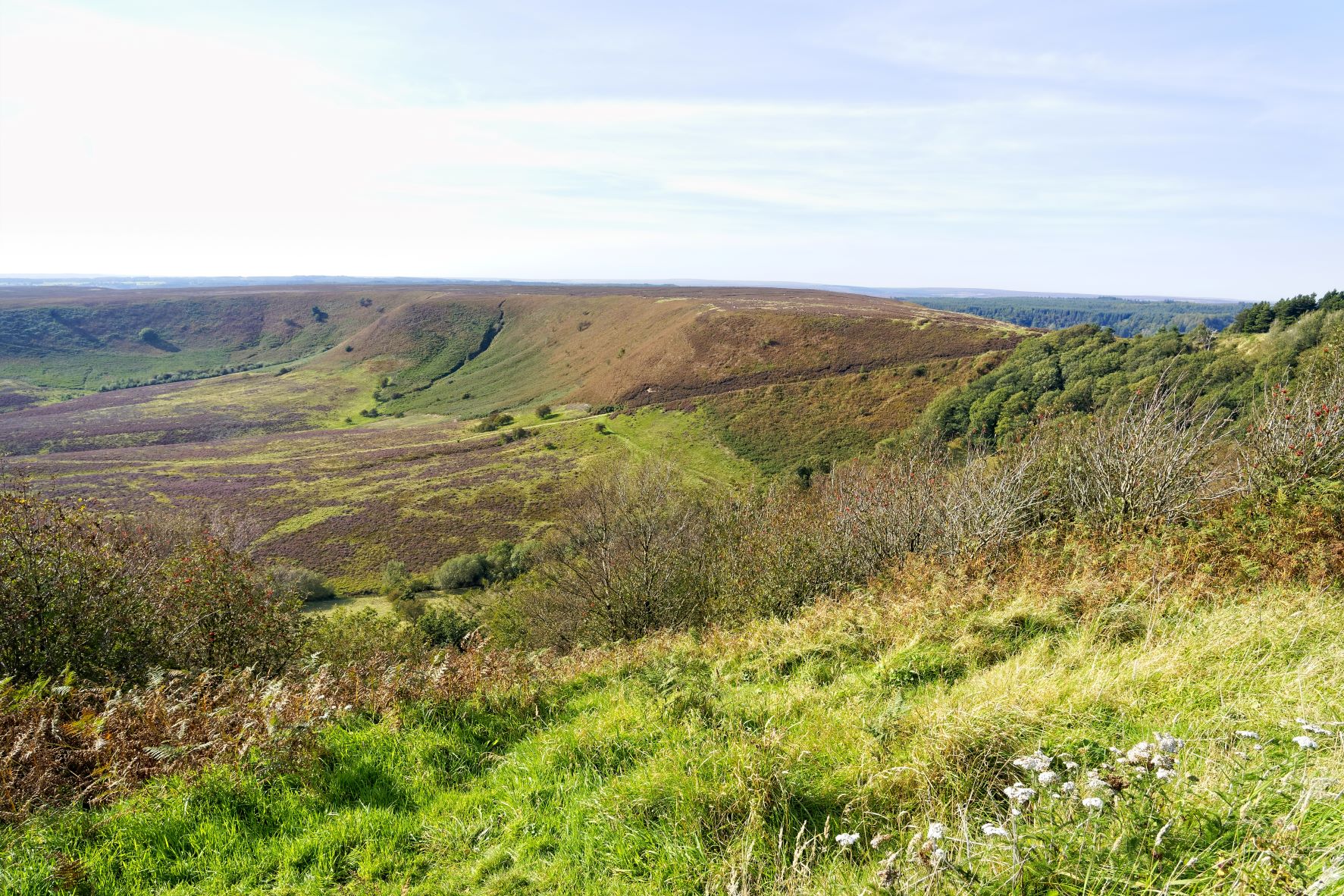 Length: 5 miles (8km) - 7 miles with diversion to Levisham Moor
Time: 3 hours
Start/Finish: Saltergate Car Park , 8 miles from High Oaks Grange (15 minutes drive via A169)
Grid Ref: SE 853 937
OS Map: Ordnance Survey OL27
Refreshments: Fox and Rabbit Inn, Lockton (bar is dog friendly)
Toilets: None
2. Dalby Forest
High Oaks Grange is located near Dalby Forest, a popular walking destination with several trails suitable for dogs. You will find a variety of lovely walks such as Bridestones or the Pexton Moor Trail. However, our favourite dog walk in Dalby Forest is the very easy Ellerburn Trail which starts at the main visitor centre. The short 1.7 mile circular route runs alongside Ellerburn Beck which dogs can access at certain points. You can opt to extend the walk and make it 2.8 miles by following the green arrows.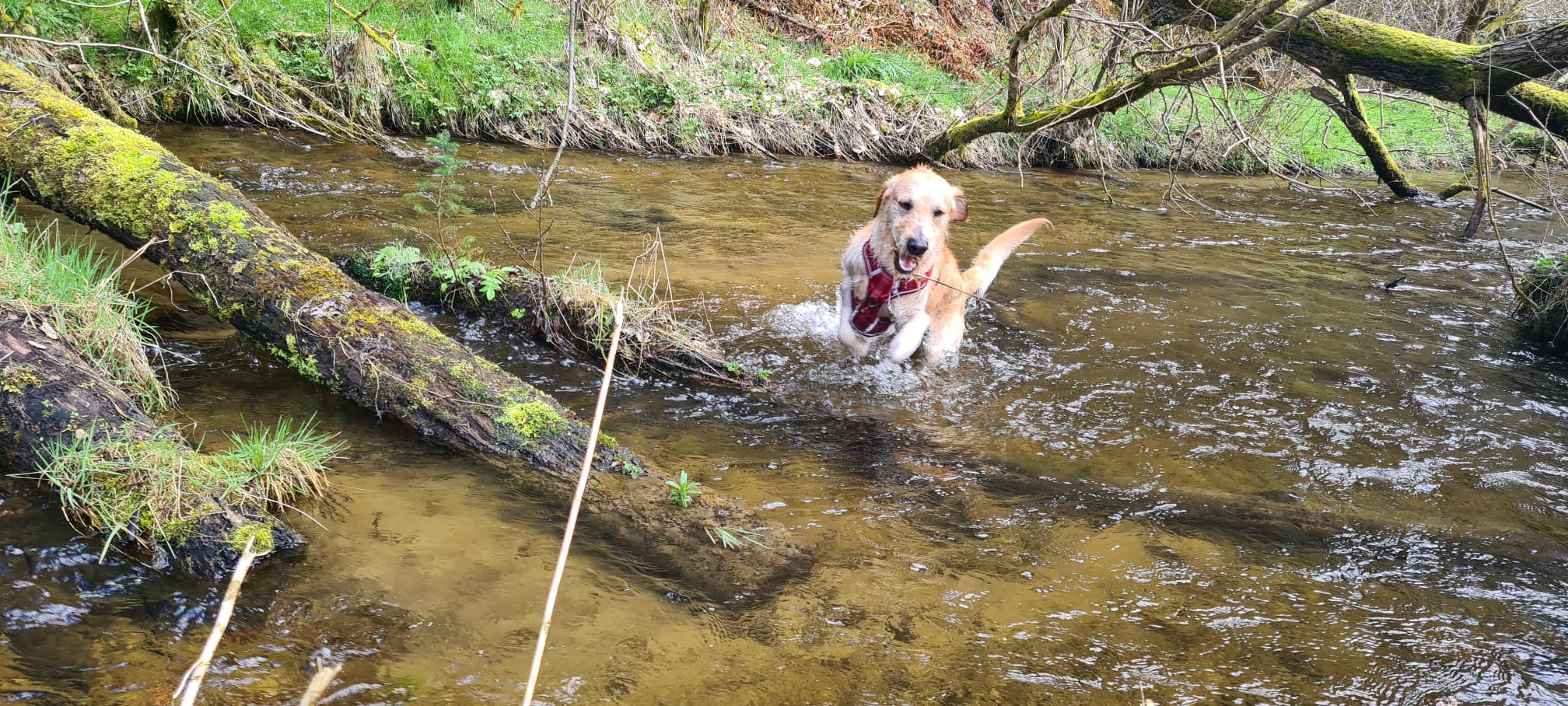 Length: 1.7 miles / 2.8 miles
Time: 1 hour
Start/Finish: Forestry Commission car park at Dalby Forest Visitor Centre (charges apply), 4.9 miles from High Oaks Grange (11 minutes drive via A170)
Grid Ref: SE 848 856
Refreshments: Dalby Visitor Centre / Courtyard Cafe 
Toilets: Visitor centre / courtyard
3. Newtondale
This 6-mile circular walk offers a wonderful woodland trail. This popular route begins at Levisham Station and is a moderate level walk with some easy valley-bottom walking combined with a climb into the woodlands. There are some spectacular views across the North York Moors and you may even spot a puff of steam from the NYMR trains. You can let your dog off the lead in Forestry Commission woods, but always make sure that they are under control. Please keep your dog on a lead in the field near Kale Pot Hole Farm as livestock may be present.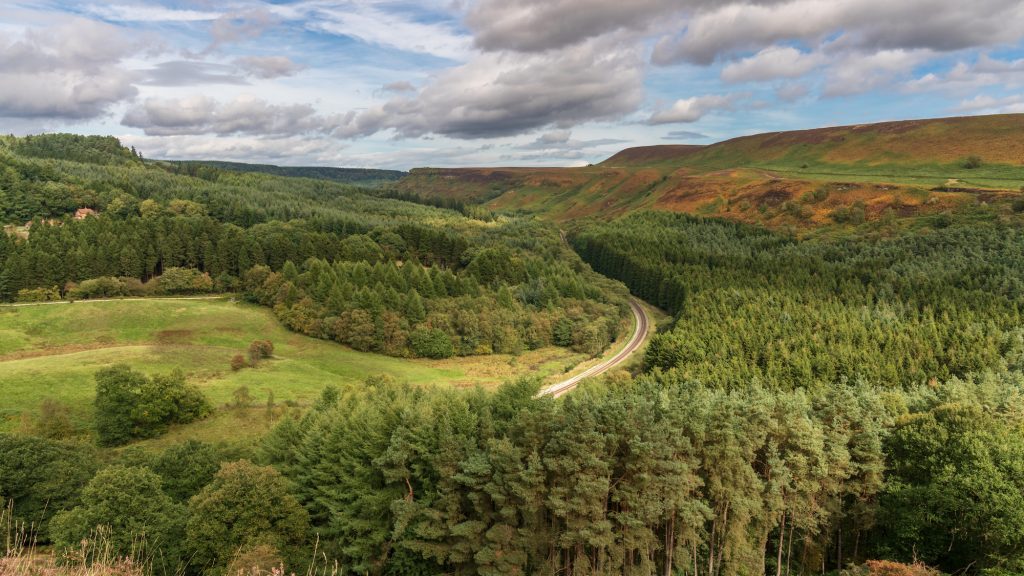 Length: 6 miles (9.8km)
Time: 3 hours
Start/Finish: Levisham station car park (honesty box for payment), 8.9 miles from High Oaks Grange (20 minutes drive via A169)
Grid Ref: SE 818 910
OS Map: Ordnance Survey OL27
Refreshments: Levisham (1.5 miles/2.4km), Lockton (2.5 miles/4km) and Pickering (8 miles/13km)
Toilets: None
4. May Beck and Falling Foss
If your dog loves frolicking in streams then they are going to love this woodland walk. It's a short 2-mile circular walk full of fun, and there is a tea garden where you can enjoy refreshments near Falling Foss waterfall. Begin the walk at May Beck, through the woodland until reaching Falling Foss and the tearoom - alternatively you can start the walk at Falling Foss and walk to May Beck.  This is an easy to moderate walk along woodland foothpaths. Near Falling Foss waterfall there are some very steep drops off the path – you should keep your dog on a short lead for safety. In the last section of the walk there may be sheep grazing – please keep your dog on a short lead if livestock are present.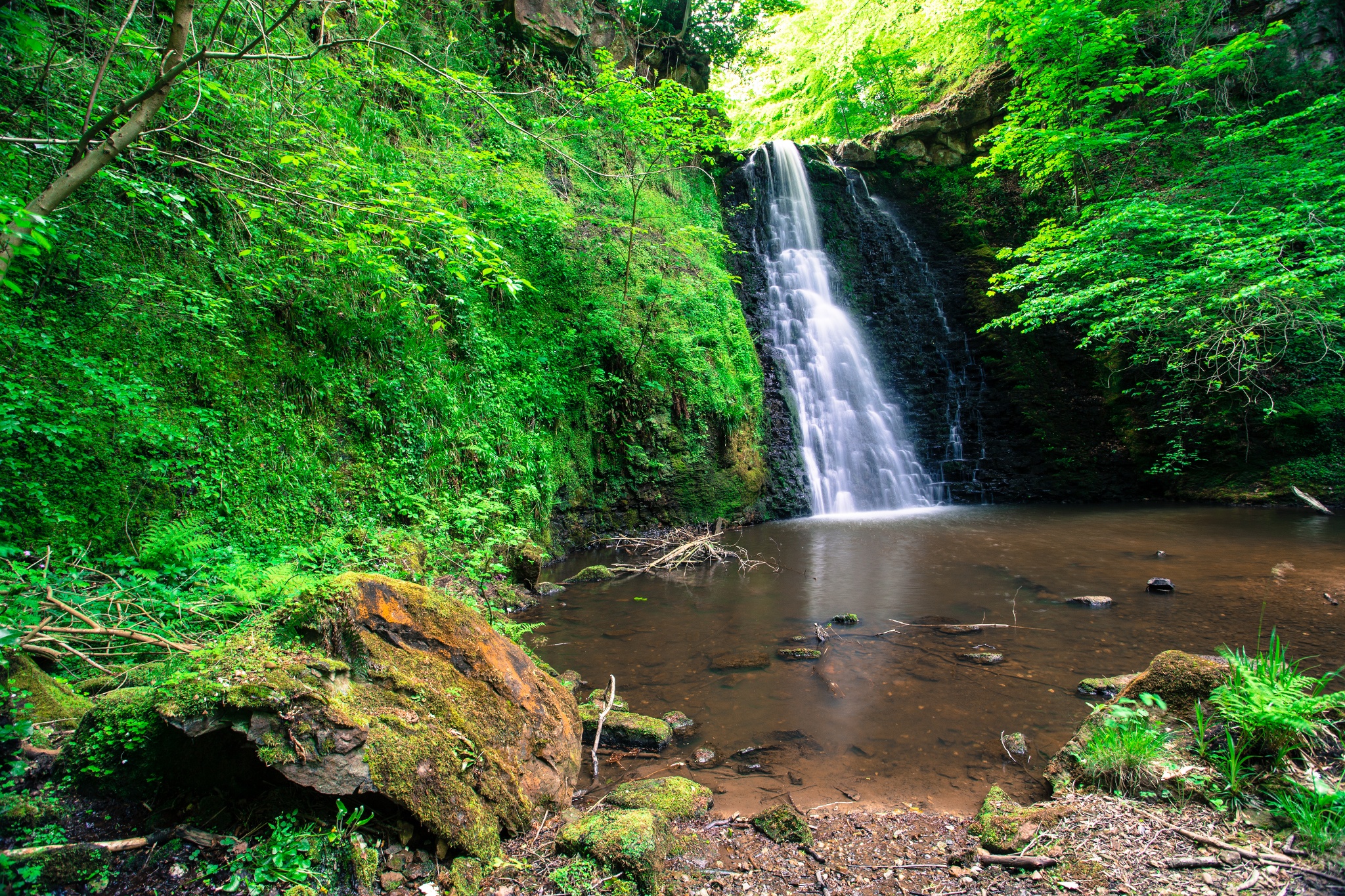 Length: 2 miles (3.2km)
Time: 1 hour 30 minutes
Start/Finish: Forestry Commission car park at May Beck, 21 miles from High Oaks Grange (35 minutes drive via A169)
Grid Ref: NZ 892 024
OS Map: Ordnance Survey OL27
Refreshments: Falling Foss
Toilets: None (available at the tea garden for paying customers)
5. Cropton Round Walk
 This walk begins at Cropton Brewery and takes in some of the very best of the North York Moors countryside. The 4.4 circular walk takes in the countryside and the forest where you'll be walking alongside the River Seven. Plenty of opportunity for dogs to be off-lead but remember to put the lead back on if you come across livestock which may be grazing in fields. It's regarded as a moderate walk and can be muddy in places (weather dependent). 
Setting out from the village of Cropton, head south along the road and past The New Inn, bearing right shortly after it in order to cut across the open countryside. After exploring the southern edge of North York Moors National Park, you will climb down through the forest to reach the banks of the River Seven.
From here, you will turn to the north and follow along the banks of the river. You'll pass Cropton Mill. Continue on to the northeast to exit to the forest, turning to the east in order to climb uphill. From here, you'll return to the open countryside and find yourself back in Cropton village - perhaps ready for a pint in Cropton Brewery.
Length: 4.4 miles (7km) 
Time: 2 hours
Start/Finish: Cropton Brewery / New Inn Car Park , 6.5 miles from High Oaks Grange (18 minutes drive via A170)
Grid Ref: SE 754889
Refreshments: New Inn
Toilets: None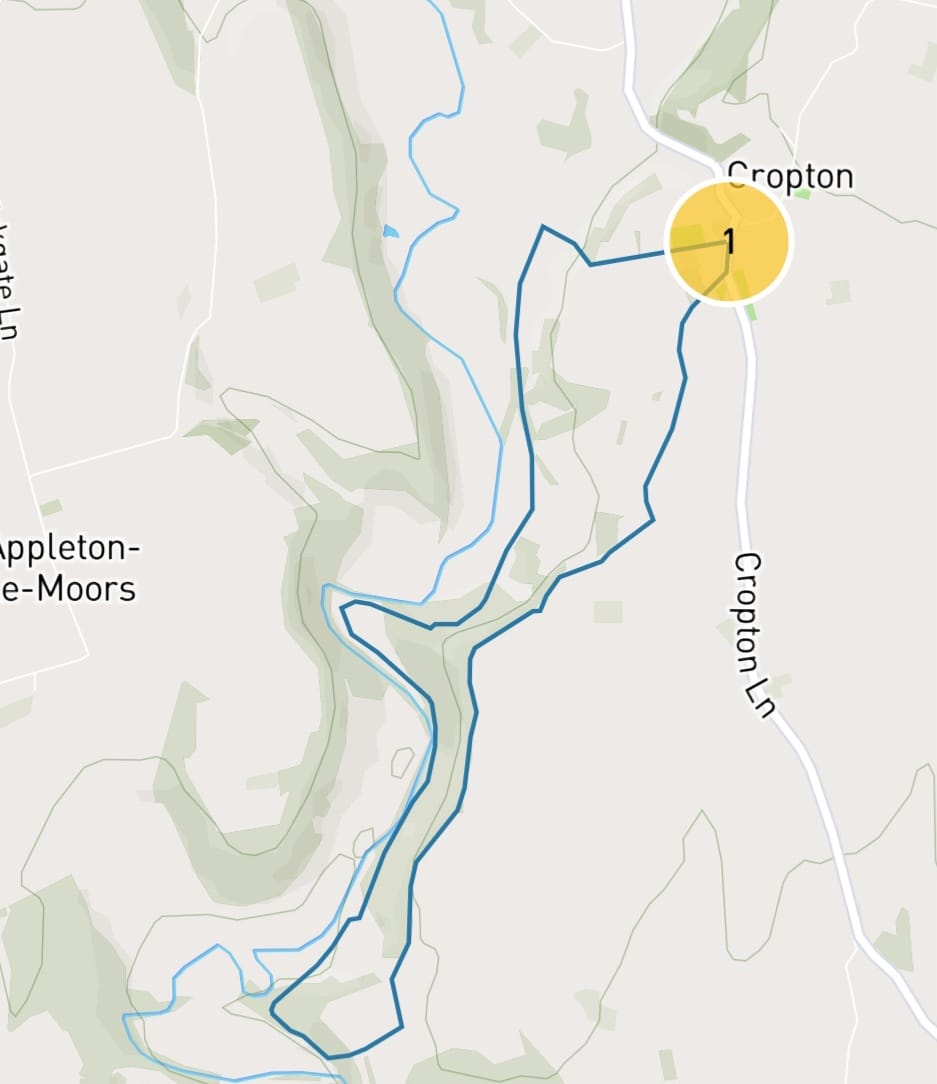 We have so many amazing walks on our doorstep, this is just 5 of our recommendations perfect for a good dog walk. You'll find more inspiration for your next walking routes on our blog.
Once you've tired out your dog, it's time to return to your dog friendly accommodation where you can rest your legs and paws. We know that luxury dog friendly accommodation can be difficult to find, but here at High Oaks Grange we haven't compromised on luxury or comfort.
Relax and unwind in your 5 star property, with the cottages offering enclosed gardens and the contemporary lodges having secured decking - perfect for giving your dog some freedom but giving you peace of mind.