National Yorkshire Pudding Day is the day of the year that we celebrate the British Sunday roast staple and in Yorkshire we take our savoury pudding very seriously. Take a trip to Malton and you will find the original recipe created in 1747 by Hannah Glasse.
In 2019, Visit Malton commissioned a street mural of the original recipe in honour of the beloved Yorkshire Pudding and its 18th century creator, Hannah Glasse. Recipes for the perfect Yorkshire pudding differ and are often handed down generations in each family. Do you add two eggs or three? More milk than flour or an equal measure? Everyone has their own favourite recipe.
Yorkshire's Food Capital
Malton is regarded as Yorkshire's Food Capital and the perfect place to visit for any food-loving guests. Especially when it hosts the Malton Food Lover's Festival which is the annual food event that attracts thousands of visitors. The small market town is proud of it's artisan producers, independent shops and the pubs and cafes that are abundant in the market square. You can even snap up a Yorkshire Pudding beer from local Malton Brewery.
 Taking account of its focus on food, Malton is the perfect place for this giant tribute to the foodstuff that has impacted on the county's food heritage.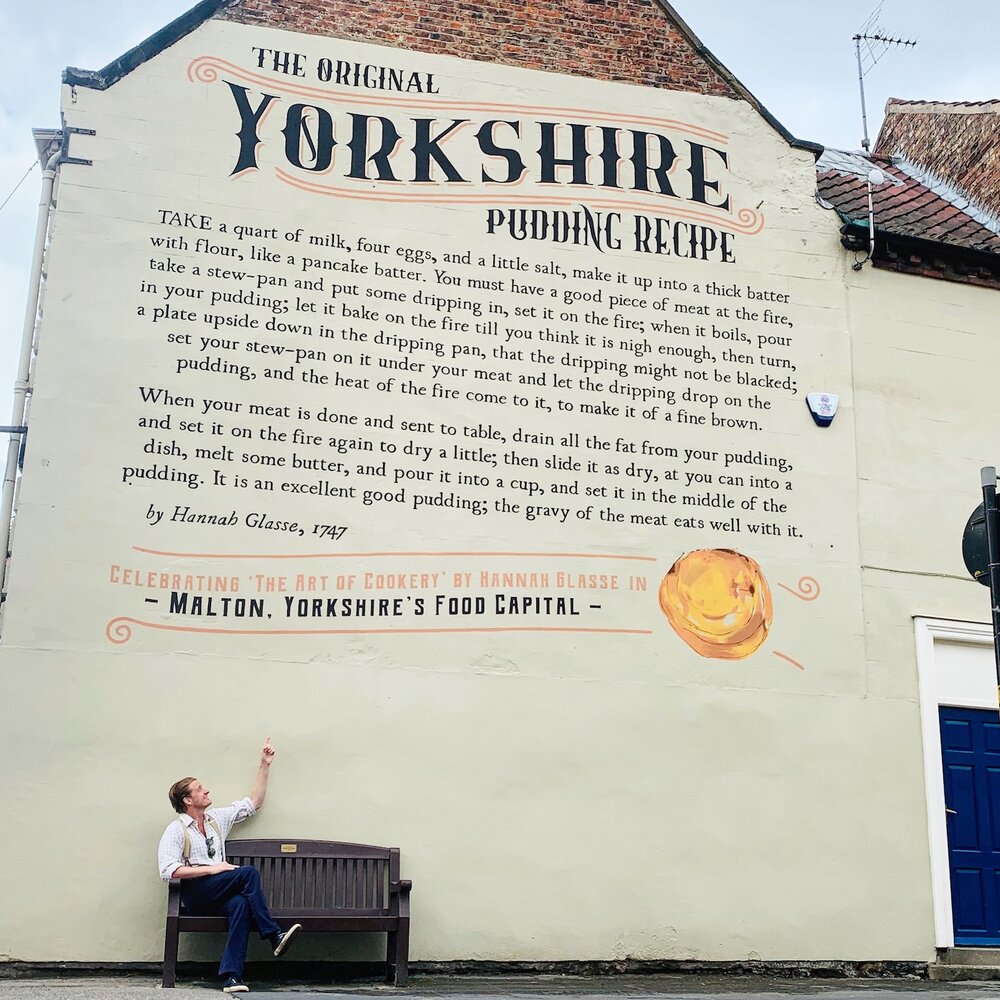 If you would rather be eating the Yorkshire Puddings than making them, then we have some great recommendations for places for a great Sunday roast nearby;
Cedarbarn Farmshop & Cafe
You don't have to venture very far to find a good Yorkshire pudding because our neighbours at Cedarbarn Farm Shop & Cafe offer an excellent Sunday roast. Set in a light and airy restaurant, you can enjoy your homemade Yorkshire puddings with all the trimmings. It's always a good idea to call ahead and make a reservation as they do get busy. 
The White Swan
The pub and restaurant in the nearby market town of Pickering in North Yorkshire offers towering Yorkshire Puddings with their Sunday roasts. There is an emphasis on locally sourced food, so you can enjoy your dinner knowing that it hasn't travelled very far. If you are an electric car user, you can even charge up your car whilst you dine at The White Swan.
Fox & Hounds
This former 18th century coaching house is situated in North Yorkshire's pretty village of Sinnington – just over 5 miles away from our gates. Fox & Hounds offers relaxed dining in their welcoming bar and restaurant with an olde world feel. Their Sunday roasts are all served with delicious Yorkshire Puddings that are home-made.
You can find more information on local restaurants, pubs and cafés you can read our Dining Out page.